Winter Semester 2021/2022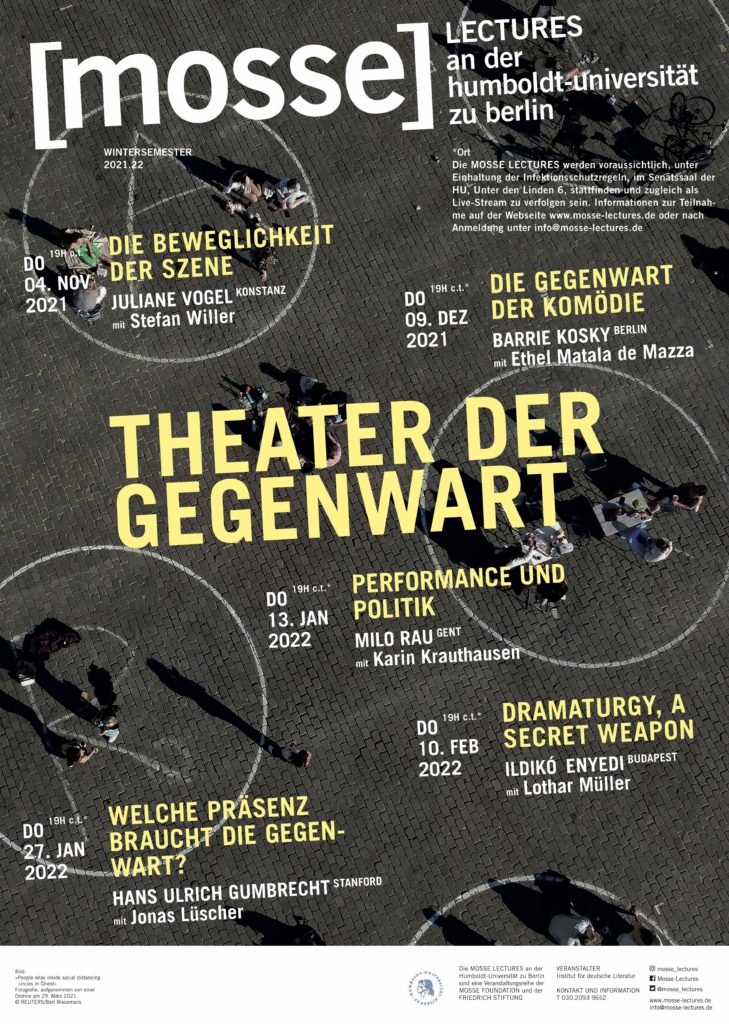 What the present is and how it manifests itself has been controversially discussed since at least the turn of the 19th century. The common background of modern reflections on the present consists in a paradoxical experience: Although increasing processes of acceleration and innovation create the impression of a "shrinking present" (Hermann Lübbe), it seems that the present at the same time becomes "broader" (Hans Ulrich Gumbrecht) insofar as precisely those (digital) innovations, but also new theoretical perspectives on history, demonstrate the simultaneity of past, present and future.
This ambivalence of a dwindling and at the same time expanding present also applies to the spatial dimension of the concept of present. The year 2020 in particular has made it clear that we live in an era of a of shrinking physical presence, whereas the virtual presence of people, spaces, and objects is seemingly just a click away. More than ever the present has proven to be something that is not simply there, but is produced and organized within the framework of media, political, cultural, and social practices. The Mosse Lectures intend to take a closer look at this performance of the present, but also at present performances: In which venues do topicality and presence come to performance? Along with highly performative settings such as the parliament, a courtroom, and the theater itself, less overt stages such as transit zones and spaces of digital communication are also addressed here, in which entirely new questions and forms of ephemeral presence are invoked. While many theaters strive to bring the crises of the present and their actors onto their large and small stages, the street is being rediscovered as a political stage, fusig performance with social networks. In light of this diversity of theatrical spaces and theatrical practices, the Mosse Lectures in theupcoming winter semester 2021/22 explore the self-staging of the present.
---
Juliane Vogel
»Die Beweglichkeit der Szene«
– with Stefan Willer
Thursday, November 4, 2021 | 7:15 p.m. | Senatssaal HU, Unter den Linden 6 (Berlin) / Livestream via our YouTube channel
[galery]:
Barrie Kosky
»Die Gegenwart der Komödie«
– with Ethel Matala de Mazza
Thursday, December 9, 2021 | 7.15 p.m. | Livestream via our YouTube channel
[galery]:
Milo Rau
»Performance und Politik«
– with Karin Krauthausen
Thursday, January 13, 2022 | 7.15 p.m. | Livestream via our YouTube channel
[galery]:
Hans Ulrich Gumbrecht
»Welche Präsenz braucht die Gegenwart? Über Dispositive der Reflexion und Rituale der Intensität«
– with Jonas Lüscher
Thursday, January 27, 2022 | 7.15 p.m. | Livestream via our YouTube channel
[galery]:
Ildikó Enyedi
»Dramaturgy, a secret weapon«
– with Lothar Müller
Thursday, February 10, 2022 | 7.15 p.m. | Senatssaal HU, Unter den Linden 6 (Berlin) / Livestream via our YouTube channel
[galery]: